Products – Call or email for pricing
All are available as a one piece suit, or jacket and pants in either a driving (white pants and designs on body) or a training (one colour jacket and pants) styles.
SUMMER
Made of a lightweight polyester fabric.
You have a choice of long or short sleeve (sorry no zip off sleeves)
Suitable for temperatures or 65F (18 C) and above.
WINTER
Outer shell is water and wind resistant coated nylon to keep you warm and dry.
Inside is a 6 ounce quilted nylon fibre fill lining for warmth. Features a rib knit collar and cuffs.
Recommended for temperatures of 32F (0C) and below.
SPRING AND FALL
Has a 4 ounce quilted nylon fiberfill lining.
Features a rib knit collar and cuffs.
Comes in a choice of outer shell fabric:
SUMMER FABRIC OUTSIDE
our lightweight summer fabric on the outside for cooler days
Suitable for temperatures of 45 to 65 F (7 to 16 C)
WINTER FABRIC OUTSIDE
our water and wind resistant fabric to keep you dry and cut the wind.
Suitable for temperatures of 32 to 50 F (0 to 10 C)
RAIN features two layers of water resistant fabric with elastic cuffs
Our TRAINING suits feature one colour pant and body with a 2 inch coloured band across the chest and on the sleeve. The band and belt are piped in your third colour.
PANTS
Pullon pants have an elastic waistband and belt loops, no pockets.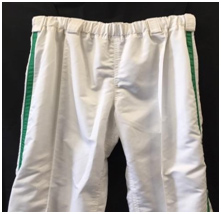 Driving pants feature a fitted waistband, with a fly front .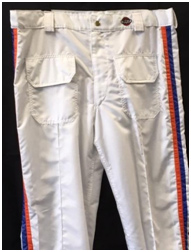 Bib pant is a sleeveless suit style with a zipper up the front (no straps). For summer and rain the top is made of a lightweight mesh fabric. The Spring / fall and Winter pants top (bib) is lined with a 4 ounce quilted lining.
Name down leg is available at extra charge.
OTHER ITEMS
BALACLAVAS
PANT CLIPS
HEAD BANDS
TSHIRTS        
Mesh sleeveless with name on collar white only
Long sleeve mock neck with name on collar black or white
Long sleeve turtle neck with name on collar black or white
Don't see what you are looking for? Call us.